Briquetting is a method of producing fuel from Agri-waste, and Real Tech Engineering Manufacturers offers excellent quality Briquetting Plants in Coimbatore, Tamil Nadu, India
Briquetting is a process of fuel manufacturing system from Agro wastes like groundnut shells, cashew nut shells, saw dust, coir pith, coffee husk, cotton stalk etc.,
The best and cheif process found in experience is manufacturing briquettes from a mixture of 80% saw dust and 20% groundnut shell. In other cases like 100% groundnut shell briquettes, pulvarised is to be done which increases the production cost.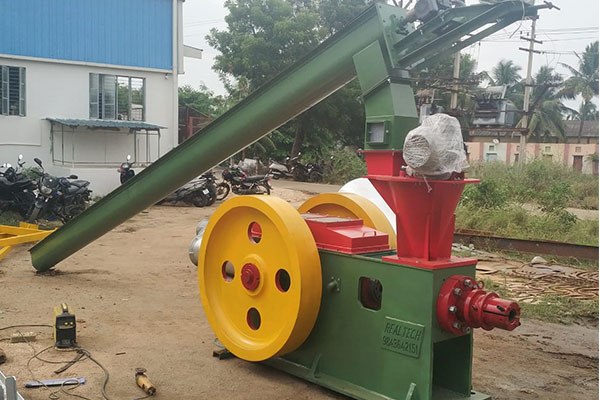 The Biomass Briquetting plant produce Briquettes from Agricultural waste, Forestry waste.
The Briquetting plant consists of:
The Briquetting Press is the main machine forming solid bio-fuel briquettes from loose agro wastes. The press consists of main body called Skelton fabricated from 25mm steel plates which approximately weighs 1.50 M.T%. The other parts are two casting fly wheels each weighs 800kg.
Due to the added benefits and the highlights of the project most developing countries appreciate and endorse the use of non conventional energy to substitute the rampant use of conventional fuels, and at the same time encourage resarch and development of finding newer ways
The Indian Government has offered various incentives for implementation of the Briquetting Plants. Some of the highlights of the incentives offered by the Indian Government for Briquetting Plants.
| Production Capacity | 600-750 kg/hr |
| --- | --- |
| Finished Product Size | 60mm Diameter |
| Finished Product Shape | Cylindrical |
| Raw Material Form | Powdery |
As above mentioned that both models will accept only powdery form of Raw Material so, it must required powder making unit. Powder making unit consist parts of:
As above mentioned that both models will accept only powdery form of Raw Material so, it must required powder making unit. Powder making unit consist parts of:
Comparison with other Fossil Fuels
| S.No | Particulars | Firewood | First Rank | Coal B |
| --- | --- | --- | --- | --- |
| 1 | Calorific Value | 2500 to 3000 | 4200 to 4500 | 4500 to 6000 |
| 2 | Ash | 20 to 28% | 0.5 to 6% | 25 to 50% |
| 3 | Pollutions Poisonous effluent smoke | Smoke | No Smoke & Sulphur | Sulpur, Co2, Phosphorous Fumes |
| 4 | Moisture | 25 to 35% | 8% | 10% |
| 5 | Cost | Rs 2.5/Kg | Rs 3.5/kg | Rs 6/kg |
| | Cost / Cal Val | Rs 4.50 | Rs 3.50 | Rs 6.50 |
| 6 | Efficiency | 50% | 75% | 70% |
| 7 | Wastages | 20% | 10% | 15% |
| 8 | Labour usage | Require Maximum Persons in handling and cutting | Single person is enough | Requires two persons |
| 9 | Bolier Efficiency | Require regular maintanance | Normal fly ash deposit on tubes | High wear & tear |
| 10 | Handling | Tough require more areas | Easy because of packed material | Tough |
Country wise Availability of Raw Materials
| Malaysia | Palam Husk, Rice Husk Char Rice Husk |
| --- | --- |
| Nepal | Labakshi, Lantana, Banmara Water Hyacinth, Agerntum Ficus, Thakal Kanada Katra Ghass |
| Netherlands | Miscalthus (Elephant grass) |
| Thailand | Corn Cob, Corn Cob Waste |
| U.K | Ceder Cones |
| U.S.A | Commerical Briq |
| Vietnam | Rice Husk, Rice Char (Ash) Rice Steam, Rice Busha |
| India | Amla seed, Babool, Bambo Dust briq, beehive briq, Cashew shell, Wheat stalk Coconut shell, Coir pith, Jute Waste, Palm Fonds, Saw dust, Sugarcane, Tobacco Waste, Almonds Bagasee, Bark, Besaram, Castor seed shell, Coffee husk, Cotton shells, Paddy straw, Rice husk, Soyabean husk, Tea Waste,. |